Simply Synonyms is a thesaurus extension for Google Chrome. It's designed to help you find synonyms, antonyms and more as fast as possible without getting in your way. It's perfect for improving your vocabulary and writing better emails, etc. To use, simply double-click any word on any page or access the quick search and other features from the extension popup.
As well as the core synonym functionality, we're also working on some cool additional features. For example, if you sign in with your Google account we'll send you an optional email each week with your weekly synonym stats, useful words, and more.
It's also open source, meaning anyone who knows how to code can contribute to it or view the upcoming features..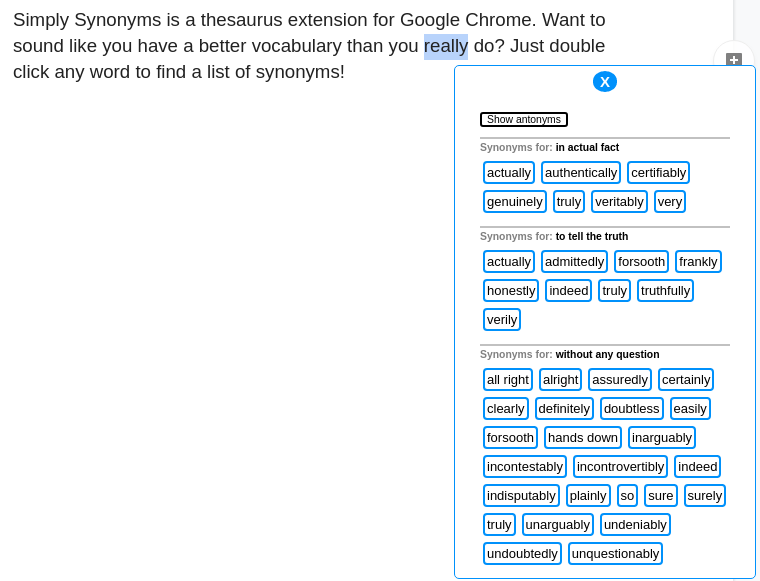 Installation Instructions
1. Click on the Get Simply Synonyms button above.
2. On the Chrome Web Store page that opens, choose "Add to Chrome"
3. Confirm the installation by selecting "Add to Chrome" again in the popup.
4. Thanks for installing Simply Synonyms! To use it, simply double click any word on a web page. You will have to reload your pages after installing Simply Synonyms before you can use it.
5. To access to Quick Search, settings, or sign in, click on the puzzle icon in the top right of your browser and choose Simply Synonyms. You can also pin this to your browser's toolbar with the pin icon.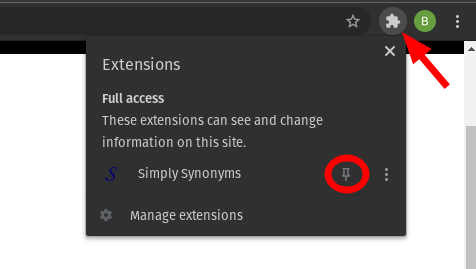 6. To uninstall Simply Synonyms, just click on the 3 dots next to Simply Synonyms in the puzzle menu and choose "Remove from Chrome".